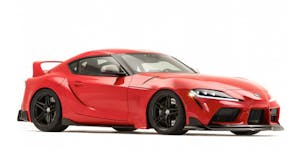 On November 5th, 2019, Toyota commemorated 40 years of Toyota Racing Development U.S.A. (TRD) at the 2019 Specialty Equipment Market Association (SEMA) Show in Las Vegas, Nevada. And, of course, the Japanese automotive manufacturer celebrated the only way it knows how; by showcasing a line-up of power-packed street and racing vehicles, emphasizing their commitment to performance in every aspect.
"TRD was created to be Toyota's factory performance division, developing parts and programs for both street-driven vehicles as well as competition vehicles," said David Wilson, president of TRD.
Since its founding in 1979, TRD has been badged on several Toyota factory vehicles, indicating their representation of the pinnacle of Toyota performance. Models with the higher level performance packages include the Avalon, Camry, Sequoia, Tundra, Tacoma, and 4Runner, all of which have added suspension, power, or both.
In honor of four decades of vehicle tuning and competition for both the street and track, Toyota displayed the new, sport-tuned Avalon TRD and Camry TRD, alongside a dozen models of the long awaited, revamped Supra.
The Avalon TRD and Camry TRD feature track-inspired suspension, upgraded brakes, aero, and more track-inspired features. Both models maintain their impeccable level of comfort and steering management, which they're notorious for, with added elements of power and performance.
The Supra line-up includes everything from stock models to full-on race cars, ready to hit the track. The many models feature revved-up horsepower, wide-body kits, and aluminum wheels, and include the following editions and concepts:
GR Supra Heritage Edition
GR HyperBoost edition
GR and Supra Performance Line Concept
GR Supra 3000GT Concept
GR Supra Wasabi Concept
GR Supra Racing Concept
GR Supra GT4
NASCAR Xfinity Supra
GR Supra Pace Car
"2019 has proven a momentous year for Toyota and TRD," said Ed Laukes, Group Vice President – Toyota Division Marketing. "From NHRA drag racing and drifting to the NASCAR and IMSA racing series, TRD continues to push the limits of what a Toyota can do."
Toyota of Portland invites you to visit us to get a taste of what was presented at the SEMA Show! Whether you want to feel the speed of the Avalon or test drive the racing-inspired Camry, we invite you to discover the need for TRD!
Sources: 
Back to Parent Page