Meet the new Toyota Mirai.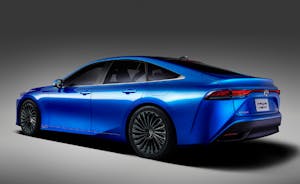 Mirai is a Japanese-given name that translates to "future"—which is exactly where Toyota is headed with the recent reveal of its second-generation fuel-cell electric vehicle (FCEV). Toyota has long been a forerunner in the automobile industry for its groundbreaking developments of eco-friendly and electric vehicles. In 1997 Toyota released the first hybrid, the Prius. Then, in 2015, launched the first-ever production FCEV, the Mirai. Now, their innovation has once again unmasked a new generation of cutting-edge design, technology, and driving performance, in the coupe-inspired 2021 Mirai sedan.
"We have pursued making a car that customers feel like driving all the time, a car that has emotional and attractive design appeal, as well as dynamic and responsive driving performance that can bring a smile to the faces of drivers," said Yoshikazu Tanaka, Chief Engineer of the Mirai. "I want customers to say, 'I chose the Mirai not because it's an FCEV, but because I really wanted this car, and it just happened to be an FCEV.'"
FCEV: Electric Without the Plug
What exactly does full-cell electric vehicle mean? Simply put, an FCEV is an electric vehicle that doesn't need to be plugged in and charged, and instead makes its own energy. By combining its stored hydrogen with oxygen from the air, its full-cell system produces an electric current, heat, and water—meaning an easy five minute fill-up is all it takes to recharge the Mirai!
So aside from it being an FCEV vehicle, what else does the Mirai have to offer?
An Electrifying Experience
The new Mirai is lower, longer, and wider, thanks to its new design based on a rear-wheel drive platform. Its aerodynamic body is complemented by 20-inch alloy wheels and a sculpted profile, inspired by coupes. Inside, the Mirai takes advantage of its new, roomier platform, offering more space, seating, and comfort for five passengers. Featuring an all-new blue color, Toyota Premium Multimedia System, and JBL sound system, the Mirai was designed to evoke emotions and offer an engaging and exhilarating experience.
While we anticipate the late 2020 debut of the 2021 Mirai, we invite you to visit Toyota of Portland and appreciate what's currently available from Toyota! From the eco-conscious Corolla Hybrid and Prius Prime, to the sleek, modern build of the Camry and 86 coupe—visit us today and get a taste of what's to come!
Source:
Coupe-Inspired Design Modernizes All-New 2021 Toyota Mirai Sedan Concept
Back to Parent Page