The 2020 Corolla Hybrid Reaches a New Peak
Toyota introduced the first-generation Corolla in 1968, only 11 years after the manufacturer established its founding in the U.S. Since then, the Corolla has climbed its way to the top, becoming the all-time best-selling passenger vehicle, with over 30 million sold world-wide. Now, 52 years later, the Corolla reaches a newer, greener peak with the addition of the first-ever Corolla Hybrid.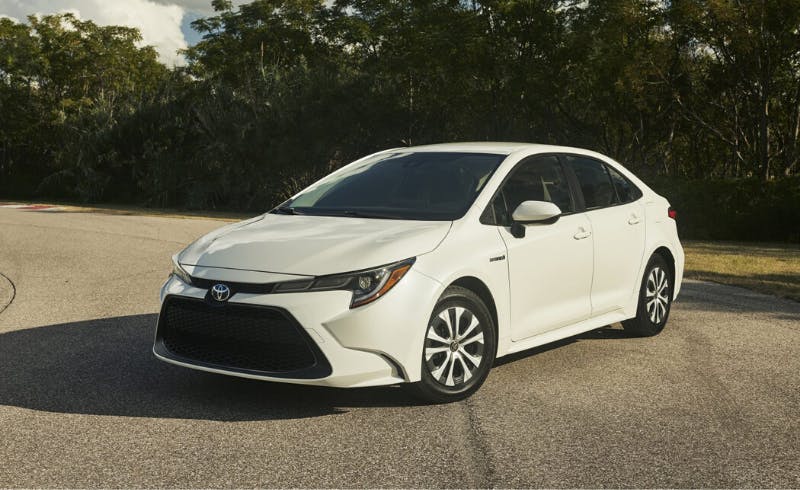 The 2020, 12th-generation Corolla features 169 horsepower, a 2.0-liter Dynamic Force engine, improved technology, the latest safety features, and an impressive 52 miles per gallon—all of which got the attention of Rocky Mountain Automotive Press (RMAP), who dubbed the 2020 Toyota Corolla Hybrid Rocky Mountain Car of the Year.
"We are honored to receive this award for the all-new Corolla Hybrid. This vehicle is another efficient and value-based offering in our lineup that provides more options for our customers based on their needs," said John Mineweaser, assistant general manager of the Toyota Denver Region. "Two years ago the redesigned Camry received this accolade, and it is rewarding to see that Toyota's latest passenger car products are being recognized by our local automotive press as leaders in an especially competitive and important segment in this market."
The Corolla beat out the 2019 BMW M850i xDrive convertible, 2020 Nissan Versa, and the 2020 Subaru Legacy in the sedan category. 
The RMAP is a division of the Rocky Mountain Press Association, composed of 95 automotive members in Colorado, Utah, New Mexico, Arizona, Nebraska, and Kansas. Each year, the Rocky Mountain Press Association evaluates multiple vehicles which recently have gone through a major redesign or added a new powertrain element. Upon determining the final four, each RMAP member must test drive the vehicles and determine their top choice based on a certain set of criteria. 
"As the voting finished up for the Rocky Mountain Automotive Press (RMAP) vehicle of the year we were thrilled to have the 2020 Toyota Corolla LE Hybrid come out on top," said RMAP president, Craig Conover. "Taking an iconic name like Corolla and offering a hybrid that can get over 50 miles per gallon put this vehicle on top for this year in the sedan category in the Rocky Mountain Region."
An Elevated Driving Experience—at Toyota of Portland!
Ready to take your driving experience to a higher peak? The pinnacle of sedans awaits you at Toyota of Portland! Test drive RMAP's Car of the Year or get behind the wheel of a standard Corolla. Other Hybrids and previous RMAP Car of the Year winners are available, too, like the Camry, Camry Hybrid, Highlander Hybrid, Avalon Hybrid, and so much more!
Explore our inventory online, and when you're ready to upgrade your ride, reach out to an associate at Toyota of Portland—your local, trusted dealer!
Sources:
Back to Parent Page