The Corolla Family: Back in Black
Welcome to the dark side, Corolla.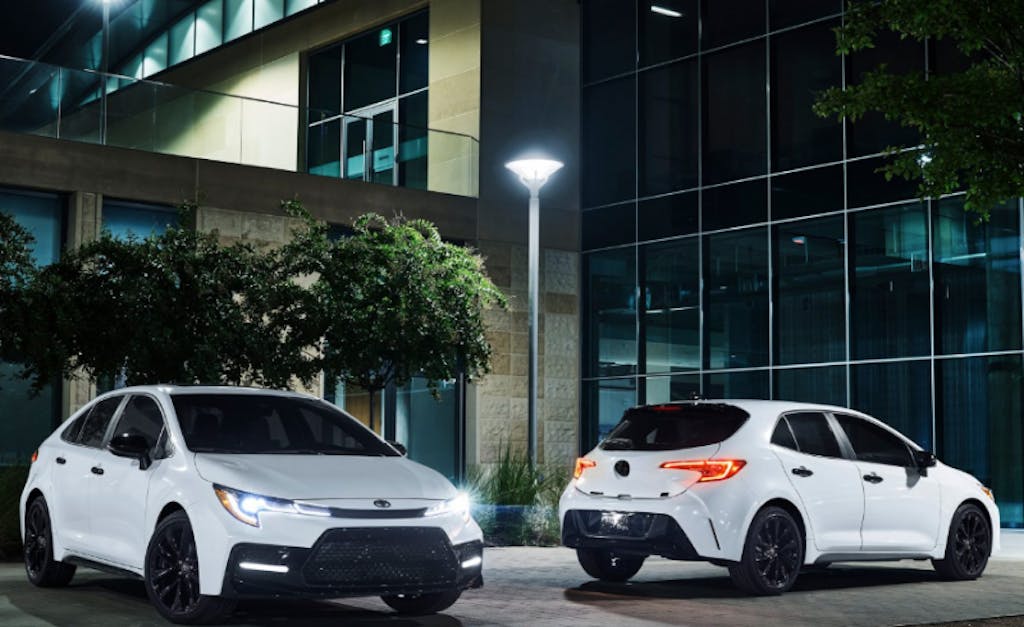 Toyota recently revealed the newest additions to join its Nightshade lineup; the Corolla sedan and Corolla hatchback! They are the fifth and sixth models included in Toyota's Nightshade Edition, following the 4Runner, Camry, Highlander, and Sienna.
Blackout packages have become a popular trend among drivers. Toyota, along with Range Rover, Mercedes, Cadillac, and other makers, saw an opportunity in this. Rather than having buyers pay aftermarket retailers to blackout their vehicles, they've given into the craze and introduced models that come complete with black rims, black badging, black grilles, black spoilers—basically, all black everything.
So what's to come in the 2020 Nightshade Edition of the Corolla family? Let's take a look!
A Sultry Sedan
Earlier this year, the newest model of the Corolla was introduced with a bold, yet sleek interior and exterior design. A mere six months later, it's being given an all-black upgrade. The dark color surrounds the Corolla sedan's grille, 18-inch wheels, rocker panels, and mirrors. Of course, the badges, spoiler, and exhaust diffuser are also entirely blacked out —giving this sedan a dark edge!
A Daring Hatchback
The Corolla hatchback just launched last year but is already being reintroduced—in black. The Nightshade Edition will mimic the sedan with all-black badging, 18-inch wheels, door handles, mirror caps, spoiler, exhaust diffuser, front and side rockers, and so much more—in black, of course.
Both models are based on the SE grade with a CVT and will be available in only three colors; Super White, Classic Silver Metallic, and Black Sand Pearl for the sedan or Midnight Black Metallic for the hatchback. As for pricing, $700 more than the original price will get you a Nightshade sedan with an MSRP of $22,750, while $900 more will get you a Nightshade hatchback with an MSRP of $22,290.
Until these dark beauties make their debut in 2020, step into the light and test drive the brighter versions of the Corolla family today at Toyota of Portland!
Sources:
Back to Parent Page