Toyota: Building a Better Future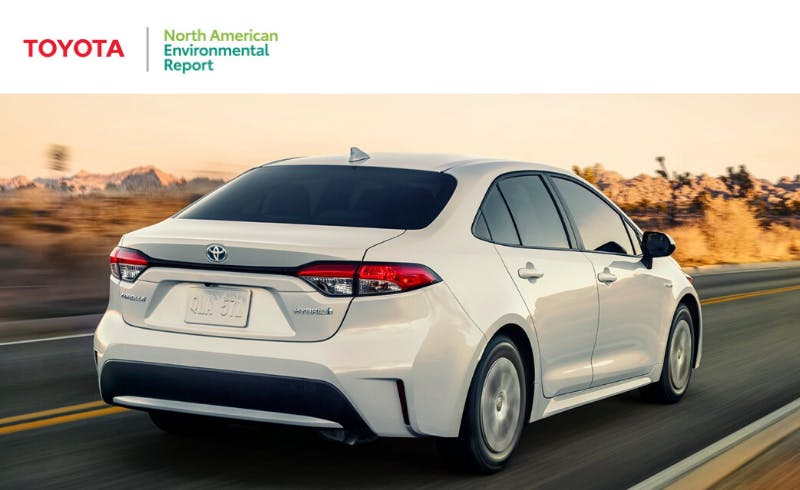 Climate change, water scarcity, resource depletion, habitat loss—it's evident that we are facing serious world-wide environmental issues, and that something needs to be done to not only address them, but to also reduce and reverse them.
Also evident, is Toyota's commitment to the environment, its wellbeing, and longevity. From reducing waste, electricity, and water usage to producing eco-conscious cars, Toyota focuses on environmentally sustainable solutions in every process they do and vehicle they make.
In the recent North American Environmental Report, Toyota highlights efforts and strategies that have improved their performance in 2019 in four key focus areas: reduce carbon, use less water, reduce waste, and protect biodiversity.
Together, these efforts are aimed towards achieving the Toyota Environmental Challenge 2050, in which Toyota has set six goals that support their long-term commitment to supporting the creation of a more inclusive and sustainable society: reduce CO2 emissions from new vehicles by 90% from 2010 levels, eliminate CO2 emissions in our supply chain and at our dealers, eliminate CO2 emissions from our operations, protect water resources, support a recycling-based society, and operate in harmony with nature.
"Our actions today are setting a foundation for the future. Achieving Challenge 2050 will not be easy, but with the help of team members, suppliers and other partners, we are already reducing our impacts and creating positive change," said Toyota Motor North America Director of Environmental Sustainability, Kevin Butt.
From the Mirai, the most popular fuel cell electric vehicle on the road, to the 2020 Corolla, awarded Green Car of the Year by Green Car Journal, and the Prius, the leader of Hybrids, Toyota continues to remain at the forefront of developing vehicles that combine design and innovation with efficiency and affordability.
Beyond mobility, Toyota also incorporates their eco-conscious efforts into the manufacturing and development of their vehicles. In manufacturing plants, Toyota has implemented innovative products, such as solar power, to increase their use of renewable energy and cut energy costs and fuel consumption. By recycling and reusing water, Toyota has also used less water in their manufacturing processes, and has installed a rain harvesting system to collect up to 11 million gallons of water and irrigate the surrounding landscape. Additionally, Toyota has reduced their waste and enhanced biodiversity through various efforts, such as using less chemicals and teaming up with individuals and organizations to raise awareness.
So what does this all mean?
It means that when you purchase a Toyota, your purchase is going towards more than just a car. From minimizing environmental impacts to maximizing positive outcomes for society, your Toyota purchase is helping to create a better, brighter future for you, your family, and the world.
You can begin making a difference today—visit Toyota of Portland to test drive "green" models, such as the Corolla and Prius. In addition to being environmentally-friendly, you'll discover plenty more reasons why you should own a Toyota and drive towards a greener future!
Back to Parent Page